Press Releases
2013
February 20th, 2013 – Heraldextra.com
BYU Football Tickets
February 28th, 2013 – Louisiana State University
LSU Introduces 'Seats 3D' for Tiger Stadium
May 16th, 2013 – WVUsports.com
MAC Introduces 'Seats 3D'
May 24th, 2013 – Our Sports Central
Earthquakes Unveil New Features For Team's Stadium
May 27th, 2013 – SportsBusiness Journal
Paciolan, Ballena help colleges as more reseat fans based on donor levels, renovations
By Michael Smith, Staff Writer
Published May 27, 2013, Page 12
More colleges are reseating their fans annually or every few years to ensure that the best donors are sitting in the best seats. It can be time-consuming and labor intensive for schools that don't have the personnel to quickly move through the seating adjustments.
Paciolan, the ticketing software firm that services 105 college clients, is working with a 3-D imaging company, Ballena Technologies, to make the process faster and more efficient.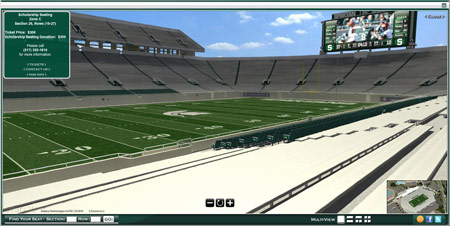 3D imaging, like this for Michigan State's stadium, helps fans quickly ''try out'' other seats.
Image: PACIOLAN
While Paciolan and Ballena have been working together for close to four years, they've seen schools adopt the 3-D seating technology more in the last year as the trend of reseating and seat adjustments has picked up in the college space.
Ballena's 3-D seating gives potential buyers a view of the stadium from a particular seat, as well as an overhead view that shows where the seat is in relation to the stadium or arena.
''When you start moving people from one seat to another, it can be a sensitive and emotional process,'' said Wendy Brown, Michigan State's assistant athletic director for ticket operations. ''We're reseating based on donor levels. With this 3-D technology, we're able to let the buyers see exactly where their seats will be, and that gives them a chance to look at the view from other seats if they move.''
Schools can reseat their fans for any number of reasons. They might want to give donors who have increased their giving the opportunity to improve their seats. Schools also reseat when a facility like the football stadium or basketball arena has undergone a renovation and changed the seating configuration. It was an effective tool for TCU when the school rebuilt Amon G. Carter Stadium for $164 million.
For some schools such as Tennessee, which has not done a full reseating in football or basketball, Ballena's 3-D technology allows the school to market its unused ticket inventory to potential buyers.
Paciolan said 11 of its college clients signed up for the service in the last year. In all, a full third of Paciolan's 105 college clients are now using Ballena's 3-D seating technology. Some schools also are using the 3-D imaging to show ticket buyers where their parking will be.
''This just makes it easy for the donor to select a new seat or a parking space,'' said Craig Ricks, Paciolan's vice president of marketing. ''You don't have to go down to the stadium and look at the seats. You can see everything on your screen at home. We've had a relationship with Ballena for about four years, but we've seen it really take off here of late. It's a much more sophisticated way for people to buy tickets, and it's a much better experience.''
The schools already using Paciolan pay an additional programming fee that's typically a couple thousand dollars to incorporate the Ballena 3-D imaging.
During Michigan State's most recent reseating in football, 87 percent of season-ticket holders were eligible to upgrade their seat and half of them logged into the 3-D seating program. The numbers were even higher in basketball, where 91 percent of the season-ticket holders were eligible to change seats and 53 percent used the system.
''The reseating - or seating adjustment, as we call it - is absolutely a trend that we're seeing across the country,'' Michigan State's Brown said. ''For us, it's not really about generating more revenue as it is customer retention. This is a great tool for keeping people happy with their seats.''
July 7th, 2013 – Tallahassee Democrat
New 3D software takes pain out of FSU football season ticket process
2012
April 4th, 2012 – Brigham Young University
BYU Announces Upgrades to Marriott Center
April 10th, 2012 – MarketWatch.com
Michigan State University Signs 10-year partnership renewal with Paciolan
April 10th, 2012 – Yahoo! Sports
A Florida Panthers Fan's Guide to the Bank Atlantic Center
April 18th, 2012 – MarketWatch.com
East Carolina University Continues 20-Year Partnership With Paciolan Leverages Ballena 3D Stadium Venue Visualization Integrated With Paciolan System to Enhance Season Ticket Buying Experience
May 18th, 2012 – RamblinWreck.com
Seat Selection for Basketball Season Ticket Holders Begins Monday
June 26th, 2012 – Marketwatch.com
University of Arkansas Renews Partnership With Paciolan
July 27th, 2012 – University of Miami
UM Launches Virtual Stadium with Seats3D.com
September 6th, 2012 – Paciolan
University of Maryland Renews Partnership with Paciolan
2011
January 10th, 2011 – University of North Texas
Virtual Stadium Seat Viewing
January 10th, 2011 – University of Arkansas
Razorback Seats 3D makes debut
March 14th, 2011 – PR Web
WebsiteAlive and Ballena Technologies Extend Exclusive Partnership Through the End of 2012
April 5th, 2011 – Marquette University
Men's Basketball Reseating
May 20th, 2011 – Purdue University
Survey Says 86 Percent Of Customers 'Happy' With Seat Reallocation Communication
June 8th, 2011 – University of Tennessee
The University Of Tennessee Continues Its 25-Year Partnership With Paciolan
July 19th, 2011 – ESPN.com
Falcons going high tech with ticket sales
August 24th, 2011 – NJ Devils News
Devils' individual regular season tickets go on sale Friday, September 9th
December 1st, 2011 – The War Eagle Reader
Auburn releases website featuring new 3D seating map of Jordan-Hare Stadium
2010
January 19, 2010 – IU Media Relations
IU To Offer Fan-Friendly Seat Selection
January, 2010 – University of Louisville
The Virtual Seating Map of the Downtown Arena is HERE!
January 25, 2010 – Athletics Frontier
Michigan State Implements Seat Adjustment for Men's Basketball
January 25, 2010 – Athletics Frontier
Reseating program aids schools, excites donors
April 6, 2010 – Sporting News
Site Offers 3D View of Stadiums and Arenas by Section
April 6, 2010 – Urban Daddy
Your Seats in 3D
May 11, 2010 – PR Newswire
itiBiti Strikes Strategic Partnership Agreement with Leading Edge Sports and Venue Agency
August 6, 2010 – GeorgiaStateSports.com
Interactive Georgia Dome Seating Views Now Online
August 24th, 2010 – Florida Marlins
Marlins Launch Virtual Interactive Seating
2009
January 8, 2009
Happy Royals Season to You!
February 2, 2009
Tickets.com, StubHub and Ballena Technologies score a Triple Play for the San Francisco Giants
February 19, 2009
YES SEAT SELECTION PROGRESSING SMOOTHLY
February 27, 2009
Tickets to Sports Events: Thumbs Up to Interactive
March 9, 2009
Phoenix Coyotes Launch First 3-D Seating Chart Combined With Live Chat
March 12, 2009
Red Bull New York unveils virtual glimpse of Red Bull Arena
April 7, 2009
ODU closing in on seating plan details for football
April 7, 2009
Markus Egger's Blog: Buying tickets the way it should be...
May 17, 2009
Sports Business Journal: Ticket holders choosing new seats
August 20, 2009
Thunder News: Season Ticket Members Upgrade, Relocate Seats at Weeklong Event
August 25, 2009
Sports Business Journal: EASY DOES IT
September, 2009
Fox Sports Minnesota: Under the Lights (video of Twins seat relocation process)
September 12, 2009
Tickets.com Blogspot: Select Your Seats Virtually at the Twins' New Target Field
November 6, 2009
Seton Hall Athletics Partners with Ballena Technologies to Present 'Seats3D' Product for Men's Basketball
2008
February 1, 2008 - Western Bulldogs
Bulldogs in Australian Football League first for supporters
June 9, 2008 - Real Salt Lake
Interactive Views of RSL Stadium Now Available Online
June 27, 2008 - Phoenix Coyotes
Coyotes launch 3-D seating chart
August 5, 2008 - Real Salt Lake
Real Salt Lake Stadium Opening Day Confirmed for October 9
October 7, 2008 - Drama Biz Magazine
Audiences can Preview Sightlines before they Buy a Ticket
December 28, 2008 - 10,000 Words
Sports arenas: How to put a multimedia twist on traditional coverage
2007
June 15, 2007 - NACMA Award
University of Maryland and Ballena Technologies receive NACMA award
October, 2007 - Live Nation
LIVE NATION.COM LAUNCHES STATE-OF-THE-ART 3D SEAT MAPS
2006
February 1, 2006 – Stanford University
Stanford Athletics Launches Virtual Stadium Seating and Tour
February 14, 2006 – University of Virginia
New Website Opens the Doors to John Paul Jones Arena
April 25, 2006 – New Orleans Saints
SAINTS IMPLEMENT NEW TECHNOLOGY FOR CONVENIENCE OF FANS
May 1, 2006 – Mitsui and Ballena to Provide Online Apartment Gallery
Seats3D applied marketing tool for Japanese new apartment sales
June 6, 2006 – Minnesota Timberwolves
Wolves' Website Offers On-line Tour of Target Center Seating
June 7, 2006 – Stanford University
Stanford Football Season Ticket Sales Show 50 Percent Increase Over 2005 Season
July 19, 2006 – Alltel Pavilion
Virtual Seating Chart
2005
February 4, 2005 – East Bay Business Times
Venues buy into Ballena's seat view visions
April 22, 2005 – East Bay Business Times
Zippline and Ballena Technologies to provide event seating views on the mobile phone
September 27, 2005 – University South Florida
Sun Dome To Feature Significant Improvements In 2005-06
December 6, 2005 – Nashville Predators
Relaunch of nashvillepredators.com a hit
December 15, 2005 – Arizona Cardinals
Cards Announce Season-Ticket Pricing For Inaugural Season In New Stadium & Relocation Plan for Existing Season-Ticket Holders
2004
October 1, 2004 – Hollywood Reporter
3-D Web site helps fans find their seats
August 9, 2004
Sports Business Journal
May 9, 2004 – USA Weekend
Picking a seat for an event? Now you can see your view of the game on your desktop
2003
December 8, 2003 – Press Release
Grizzlies Release 3-D Fedexforum Seat Views Online
December 7, 2003 – Memphis Commercial Appeal
Take an early seat, and look out
November 10, 2003 – New York Times
Online Ticket Sales Bolster Crowds
August 15, 2003 – Sport and Technology News
Computer-based seat-viewing takes off in the US
July 24, 2003 – Orlando Sentinel
New technology lets Magic fans take a virtual tour before buying seats online
July 14, 2003 – Sports Business Journal
76ers and Suns getting 3-D tech to sell tix online
2002
September 13, 2002 – Press Release
Kansas Speedway, Seats3D gives race fans virtual seat map
August 19, 2002 – Press Release
Ballena Technologies Launches Interactive Seats3D Product at Talladega Superspeedway
July 18, 2002 – Press Release
Ballena Technologies Launches Interactive Seats3D Product at Michigan International Speedway
April 19, 2002 – San Francisco Business Journal
Alameda Tech Firm Nails NBA, WNBA Deal
April 19, 2002 – San Francisco Business Journal
April 1, 2002 – Union Tribune: Padres
March 15, 2002 – Vertical Alliance
January 27, 2002 – Press Release: North Carolina Speedway
2001
November 15, 2001 – Team Marketing Report
October 2, 2001 – USA Today
October 2, 2001 – Press Release: SJSU
September 23, 2001 – Street-Smith's Sports Business Journal
June 9, 2001 – Team Marketing Report