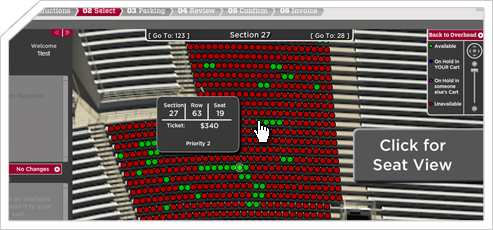 Seat Relocation Management System (SRMS) / Seat Upgrade System
Ballena Technologies is the pioneer of online seat selection in a 3D environment. Ballena's innovative Seat Relocation Management System (SRMS) was designed to manage the re-seating of an existing venue, migration into a new one, or as a seat upgrade process. Ticket account holders are able to preview individual seat availability online and make their selections in priority order from the convenience of their home or office. The SRMS reduces the burden on both customers and staff, saving valuable time, money and resources.
The SRMS utilizes Seats3D seat views to inform customers of best options and the back end system allows for complete control over accounts, availability, activity, reporting and exporting to any ticketing system. Each seat relocation is a unique event specific to the rules and preferences of our partners and the SRMS was developed with this flexibility in mind.The Seat Upgrade System has proven to be both a convenience for account holders and a revenue generator for our clients.